"Advertising is selling in print" – Daniel Starch
We introduce you to our 9 categories of printing services, which we find to be
very efficient, useful, and suitable for more than 50+ advertising needs.
We Introducing Scodix printing services. They are the new in luxury printing technology you may not know yet! What Scodix can do for you?
Digital relief gloss effect!
(up to 250 microns – ie 100 times higher than the selective UV varnish) When it comes to luxury prints, the high gloss effect is noticed immediately because it looks great! The precision of the technology allows all non-standard creative ideas to be realized with embossed varnish! We can have 100 microns of varnish in one place, increasing gradually up to 250 microns.
Hot foil metallic foil application in real time! ( no matrix needed )
Now the long and expensive process involving the making of a different matrix for different design elements is worthy only when you decide to print a huge amount of advertising material. When you need small and medium volumes, the technology for real-time foil application (gold, silver, copper, etc.) is the new contender for the "high quality and good" price title. With this Scodix technology, even the FINEST metallic print elements are not difficult to reproduce!
Digital UV varnish.
This technology digitally recreates the effect of traditional flat varnish, but without the need for machine setup time. Technology is more cost-effective and superior to traditional UV printing. Just as precise as the previous Scodix printing services we listed, which means that even the most demanding design can be realized!
Digital metal effect.
This is an innovative technology for metallic coloring, using only CMYK colors! The technology eliminates the need for hot-foil prints. The best choice when it comes to small and medium quantities of promotional materials, packages, catalogs and more!
DIGICUT - THE LASER'S STRENGTH
It is now possible to realize your boldest advertising ideas thanks to the innovative Digicut laser technology! Yes, this laser technology cuts the finest shapes without the need for a cutting matrix!
Does it combine with the other printing services you offer?
In practice, we have almost no restrictions! We can combine technology with even more advanced technologies, such as hot stamping, UV varnish, screen printing and more, and the size of the paper, nearly 60cm, allows us to produce: luxury business cards, invitations, packaging, labels and whatever you need!


Paper engraving, laser paper creasing, and micro perforation?
You may not have heard of this "combination" because it was not possible until recently. But today the answer is yes, now it is possible! And not only is it possible, but the laser can cut, crease, micro perforate and engrave in just one pass! The benefit of this innovation is entirely for you! It gives us the opportunity to offer you shorter deadlines for the production of printed materials, to produce small quantities, and to give you more competitive prices!


What about the personalization capabilities?
Of course! Directly from a CSV file, which means we can customize not only names but also a different type of variable information such as contacts, addresses, and more!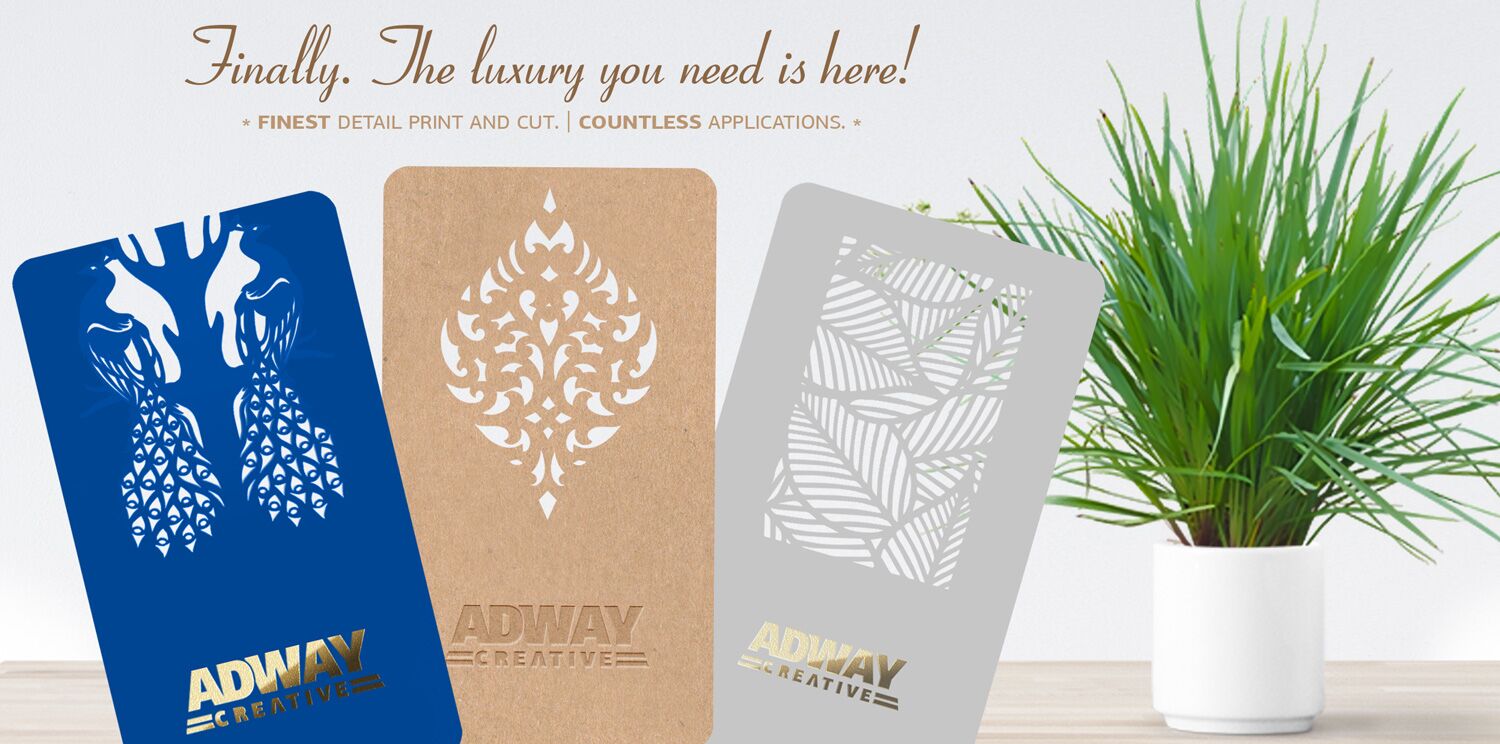 So, the next in print advertising is now!


With our electric digital pink ink color, we open a whole new creative world for your promotional materials! Our new electric glowing pink color can be printed as a single or as 5th color in combination with CMYK colors. Also, this new ink allows extra variations in the color saturation values. This creates an endless variety of new and non-standard color combinations for your designs.


We can print this color to all type of media, up to 700x500mm in size, which gives you the freedom to more! No matter if you need posters, postcards, brochures, boxes and packages, labels, stickers or menus, our printing services cover you! The glowing pink ink will significantly enhance the impression of your advertising print materials.
TEXTILE PRINTING
& SUBLIMATION
TexSystems is our choice for trade show exhibition stands design and manufacturing where the great design, versatility, functionality, and price matters! All our customer admire the excellent quality of this expo stand design and construction system, suitable for producing small, medium and large expo stands.

This system is perfect for the fabrication of textile frames, banners, exhibition walls and stands, irregular shapes, one-sided and double-sided illuminated boxes, cubic shapes and more.
NEW STUNNING QUALITY!
Be prepared to be impressed by the exceptional textile printing quality we offer you! Our Teleios Grande / H6 digital textile printing machine can reproduce expanded color gamut with very rich black, excellent ruby red colors, royal purples, fluorescent yellows, and pinks, which almost no other dye-sublimation digital textile printing services machine in the market today can't offer!


Thanks to the latest Ricoh printheads the true grayscale ( 7pl/ dot. 8 ) print productions and the extraordinary native 600dpi resolution are now possible! These printheads come with the amazing 1280 nozzles per color, which enables the wild printing speeds up to 185 sqm/hr (and we can refill the inks while the print is in the process). This way we can perform the sizable projects and deliver the final product in a brief timeframe.
Our Teleios direct to fabric* sublimation printer can print with the excellent ink penetration great looking custom designed home textiles, eye-catching trade show displays (combined with TexSystems technology), surpassing advertising flags, single and double-sided light boxes, table covers, banners, tents and more!


*Direct-to-fabric printing omits the requirement for a paper transfer process and enables exceptional control of the final image density on the fabric.
INDOOR AND OUTDOOR SOLUTIONS
We use them when your ad has to be positioned in a specific geographic location. This category includes all outdoor and indoor advertising constructions, such as signs (illuminated and non-illuminated), flags, tents, umbrellas, billboards, vinyl mounting structures, expo stands, advertising puffs, decorations, vehicle wraps, brochure holders, expo walls, roll banners, and more.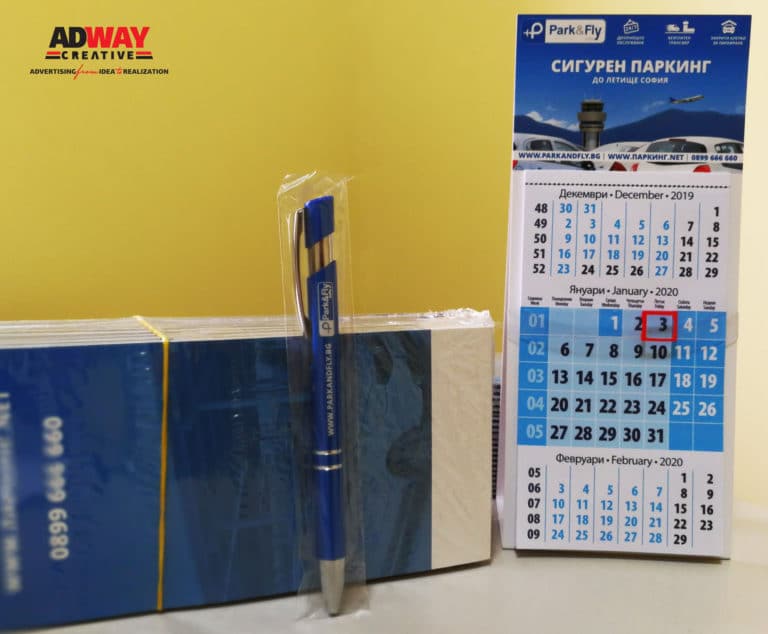 When you want to make a gift to your client, the promotional materials and our printing services are a great solutions. Ad material is an object on which your logo and/or advertising tagline is printed. Some of the most popular advertising materials are pens, external USB chargers, flashlights, lighters, bags, USD storage devices, magnets, and more. The number of advertising materials you can choose from exceeds 5000.


See our 2020-2021 promotional marketing catalogs here
When you need to print large amounts (1000 and more pcs.) of promotional materials (flyers, brochures, posters, etc.), the most cost-effective solution we can offer you is offset printing. Another plus of this technology is the ability to further optimize your costs by using fewer colors (for example, only one or two). The different types of paper that can be used are a newspaper (80g), flayer paper (130g chrome gloss) and luxury (250g / 350g mat or gloss). Deadlines are usually short (4-5 business days), of course, they may vary according to the size of the circulation.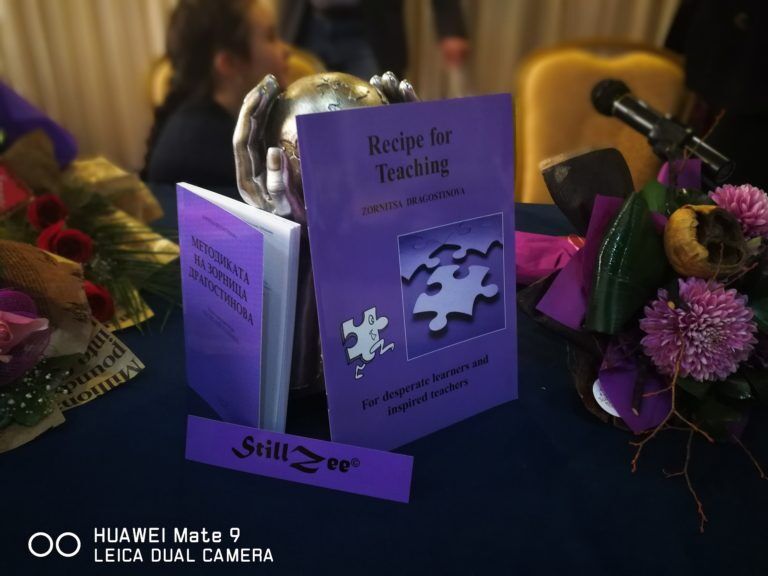 Our digital printing services are suitable for the production of any small number of promotional materials. It is also can be used for larger quantities of print materials that have to be printed within 1 or 2 business days using our printing services, but the price, in this case, is higher than the offset print price.
We recommend this printing services for the production of a large promotional materials. For example, in outdoor advertising, the most commonly used materials are vinyl, mesh, backlit, films for a car and shop windows branding and more.